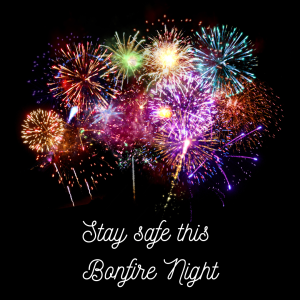 We all remember the smell and the sounds of a fireworks display when we were young. The smell of the giant bonfire burning, leaving a smoky scent to the air and your clothes, the joy of waving a sparkler in the air and trying to spell out your name, as well as the sight and sounds of fireworks whizzing into the night sky, with the bright colours exploding everywhere with a giant bang.
We want those memories to continue and why we have come up with these top tips to keep you safe this Bonfire Night.
So, let's start with staying safe with fireworks, these tips may seem obvious, but we want you to be able to enjoy the fun and not suffer any injuries… as a starter for ten, one person should be responsible for the bonfire, one for the fireworks and children should be supervised.
 An organised display is the safest way to enjoy fireworks. Your local fire station may have a display (South Wales Fire and Rescue Service have a list of their displays here) or at your local rugby club.
Fireworks are noisy which can upset very young or elderly people, people with PTSD, as well as pets. They can cause damage and serious injuries if not used properly. If you can, look to buy silent fireworks, which give you the colours but without the noise.
It is an offence to buy fireworks by anyone under the age of 18. You can be fined or imprisoned for buying or using fireworks illegally.
The cut off to fireworks off is midnight on 5 November and 1am on New Year's Eve or Chinese New Year. Any other time of the year, you must finish by 11pm. It is also an offence to set fireworks off in a public place like a playground or park.
Avoid drinking alcohol whilst in charge of a bonfire or fireworks and particularly when supervising children.
Make sure your fireworks conform to British Standards BS 7114, EN 14035 or EN 15947.
Keep fireworks in a closed box and use/light them one at a time.
Light the firework at arm's length using a taper or fuse wick and stand well back – never return to a firework once it has been lit.
Only children over the age of five are allowed to use sparklers and should be supervised by an adult at all times.
So, what if you want to feel the warmth of a bonfire?
Keep bonfires small and manageable and build them away from houses, garages, sheds, fences, overhead cables, trees, bushes and vehicles.
Never use flammable liquids – paraffin or petrol – to light the fire.
In case of an emergency, keep buckets of water, the garden hose or a fire extinguisher ready.
Avoid loose clothing and tie back long hair
After the party, pour water on the fire, rather than leaving it to burn out.
If the fire does spread or gets out of control, do your best to put it out, or someone is injured ring 999 and ask for the fire service and/or the ambulance service and they will be able to keep you, your loved ones and your home safe.